The Water Honcho Portable Solar Water Desalination Unit - University of Alabama Patent
Extract PURE & HEALTHY Drinking Water from ANY Water Source
The WATER HONCHO is a portable solar powered desalination and water filtering unit that uses no electricity, requires no generators, can be easily taken anywhere, AND extracts pure safe drinking water from seawater, saltwater, ground water, flood water, rivers, streams, lakes or any contaminated water source.
The Water Honcho portable solar desalination systems and portable solar water filter systems are used by: Campers, Disaster Relief, Remote Areas Residents and Vacationers, SAR, Military, Boaters and many other users...
Assembles in minutes! No complicated maintenance!
Our Solar Power Desalination and Water Filtering & Purification System Removes:
Radiation
Fluoride
Salt
Pesticides, arsenic, chlorine and other chemicals
Bacteria
Dirt and other contaminants from any water
Be prepared for disasters, save hundreds of dollars on bottled water and utility bills.
6 EASY ASSEMBLY STEPS
1. Remove from bag

2. Shake out panel

3. Insert poles

4. Attach corners

5. Pour in contaminated water

6. Connect your own bottle

Drink clean, tasty, healthy water

VERY portable! - Just 4 lbs.

The Water Honcho Features:
Produces up to 4 to 6 liters of fresh healthy water per day in full sunlight. Enough drinking water for a small family and all the Water Honcho units are BPA-Free and made in the U.S.A. Saves lives after hurricanes, earthquakes, floods and other disasters.
Brings you the first ultra-portable personal solar desalination and water filter system. The Water Honcho is not just a water filter but a personal desalination system. It distills pure fresh water from any source (one pure H2O molecule at a time);

Just pour in well water, ocean water, lake or stream water, contaminated water of any kind (saltwater, floodwater, radiated water, even polluted groundwater).
Then let the Water Honcho, sunlight and gravity do the rest.

No electricity, no batteries, no filters, no chemicals, no complicated maintenance.
The water produced by the Water Honcho is up to ten times more pure than regular tap water and up to 700 times more pure than contaminated ground water. Use over and over with no filters to clog and nothing that requires constant maintenance or replacement.
It is made of UV-stabilized, FDA-compliant, food-grade plastic to give you years of trouble-free use (they will last 4 to 6 years in direct sunlight).
It connects to a standard 2 or 3 liter bottle.
Setup is simple, just insert poles, add a few buckets of contaminated water and close the zipper. Every few weeks, you clean by squeezing the contaminated left over residue from the pad.
The Water Honcho Specifications:
Produces up to 4 to 6 liters per sunny day of safe, fresh drinking water
Dimensions when in use: 2.5 ft x 3 ft.
Weight empty: 4 lbs
ORDER BELOW
Until now, desalination has been a technology typically reserved for governments, military and owners of luxury yachts. But now Water Honcho introduces the easy to use and very affordable personal solar desalination and water filtering system.
They're perfect for beach homes, off-grid locations, humanitarian aid workers, world travelers, emergency preparedness and anyone who wants a sustainable way to ultra-purify questionable tap water, seawater, well water and any lake, river, stream or groundwater.
Water filters have been around a long time, and they're good for cleaning water, but many can't remove anything that is in solution with the water. Salty ocean water, well water contaminated with arsenic (and other chemicals) or surface water contaminated with pesticides are usually off-limits to many water filters. But these are the types of contaminated water that people encounter after a disaster or in developing nations.
Desalination is the only way to purify these difficult-to-clean waters. But conventional desalination requires careful maintenance of molecular screens and expensive equipment. And in many cases, dissolved contaminants like arsenic and chlorine will damage sensitive membranes in conventional desalination systems. But the Water Honcho is easy to use and requires no special maintenance, no pre-filtration and no training. They're impervious to fouling and they have nothing to wear out or replace.
The water filtering system is VERY PORTABLE AND 100% solar powered, so clean, pure and healthy water is always in reach in any sunny climate. Most important, the water produced by the Water Honcho is up to ten times more pure than tap water, and it is the least expensive, reusable desalination system available today.
Water-related diseases are the leading cause of illness and death in developing nations. Up to a billion people today, do not have access to clean water. But our Water Honcho users now have a simple, rugged water filtering system to easily produce clean and healthy drinking water.
Whether our users are in the suburbs of San Diego, the barrier islands of the U.S east coast, the mountains of Haiti or a coastal village in Africa, the Water Honcho provides a highly portable and simple system to make clean healthy drinking water in the worst conditions. Our priority and our mission is to bring clean and healthy water to children and adults one mighty little Water Honcho at a time.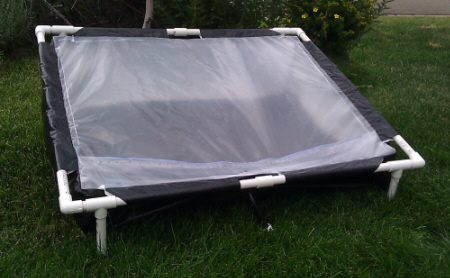 The Water Honcho Expedition Pack Setup and creating
FRESH, Healthy Drinking Water from contaminated water!
up to 4 to 6 Liters per sunny day



FREE Ground Shipping offered with your purchase (WITHIN the Continental U.S.)
Quantity Discounts are always Available
NO SALES TAX for any orders outside of Florida
If you require Shipping outside of the Continental U.S. - Contact Us directly for Additional Shipping Costs
WATER HONCHO ORDERING OPTIONS
Please NOTE - Our Water Honcho's are proudly made in the USA to order! - Due to a spike in national and international requests for our portable solar power water desalination, filtering and water treatment systems, we are currently experiencing delays in shipping. Please allow from 21 to 30 days for delivery. We strongly suggest you order a Water Honcho when you DON'T need one - as you never know when you WILL need one!
PRICE INCLUDES FREE GROUND SHIPPING IN THE CONTINENTAL U.S.A.
WATER HONCHO EXPEDITION PACK - $359.00
Our most popular and capable system! The standard Water Honcho unit, includes ground insulation panels to increase water output and protect unit, marble chips to re-mineralize water, and includes drawstring storage bag.

---

WATER HONCHO LITE PACK - $359.00
If you need to travel light, but still want to be prepared, the Water Honcho Lite will save precious weight, it's a pound lighter than our regular unit. The poles are a bit thinner. Includes drawstring storage bag and insulation panels.

---

BOAT OWNERS - WATER HONCHO MARINE PACK - $379.00
For sailboats and cruising. Includes deck insulation surface, and connects to bottle or your boat's water tank. Also includes tie-down cords, instant-fit tube coupler, drawstring storage bag plus thicker evaporation surface to prevent sloshing at anchor. Avoid transporting water with your dinghy, an alternative to expensive and energy draining reverse osmosis systems. Always have a source of fresh and safe drinking water.

---

WATER HONCHO FAMILY PREPAREDNESS PACK - $489.00
One Expedition Pack plus One Lite Pack to supply water for extended families, friends and neighbors. Use two units to produce up to 3 gallons of pure fresh drinking water per sunny day from any contaminated source - Be prepared!

---

INTERNATIONAL ORDERS
WATER HONCHO INTERNATIONAL - $330.00 PLUS $30 Shipping
Just like the Water Honcho Lite system, but with lighter weight tubes to lower the cost of international shipping. If you're in any country from Australia to Zimbabwe, the cost is U.S. $30 flat rate by USPS Air. If you would like any of our other products shipped Internationally, please contact us directly.
A Quick History of Solar Desalination
Solar Desalination is a technique to desalinate, filter and purify water using only solar energy. Solar desalination in the modern era extends back to the early 1950's when simple solar stills were studied for remote desert and coastal communities. However, because of inexpensive water pumps and pipelines and declining energy costs in the middle of the 20th century, solar stills had become less of a viable solution for these community-scale projects. This trend is currently reversed again, because all of the fossil resources required for 21st century desalination are becoming expensive and scarce. The future of desalination has to rely on the use of solar-energy only. Many desalination plants have begun retrofitting and new sustainable technologies, which can also serve as decentralized utilities are being developed by many specialized companies.
---
[ Up ] [ UV Water Purifiers ] [ Portable Water Filters ] [ The Water Honcho Solar Power Water Filter ] [ Drinking Water Filters ] [ Whole House Water Systems ] [ Air Filters and Air Purifiers ]
---
If you require more information you may call us at our Toll Free phone number or send us an Email
Email: info@purestfilters.com
| | |
| --- | --- |
| Sales Hours: | Monday - Friday 8:30AM to 5:30PM EST |
| Service and Repair: | Monday - Friday 8:30AM to 5:30PM EST |